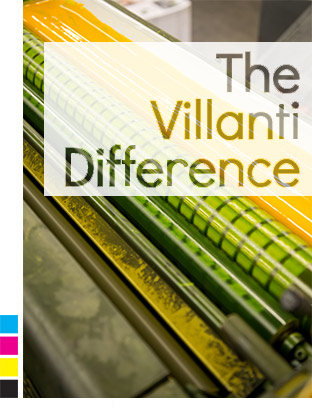 Since 1959, we at Villanti have been producing commercially exceptional printing. Driven by industry-leading standards of quality and service, we take the time to do every job right, saving you time and money in the process.
And when it's done, after the planning sessions, paper selection, ink calibration, color correction, cutting and binding, and mail-stream strategizing, the printed material you hold in your hands will be some of the finest you have ever seen.
Enduring craftsmanship: that's the Villanti Difference.
From Our Blog
Tuesday, 12 January 2016
Seems like everyone's talking about sustainability these days. But we at Villanti Printers think it's important to point out that the idea of sustainability is based on something that has guided our every move since 1959: a belief in the future. This philosophy led EverydayHappy to partner with us for their welcome letters.
read more ›
Monday, 30 November 2015
We were over the moon when we found out that a brochure Villanti produced for St. Lawrence University was featured on Foldfactory's video series, 60-Second Super-Cool Fold of the Week. For those of you who aren't fold fanatics, Foldfactory has been showcasing a new awesome fold every week for more than six years. The range of creativity out there is truly inspiring.
read more ›